Effective SEO campaigns.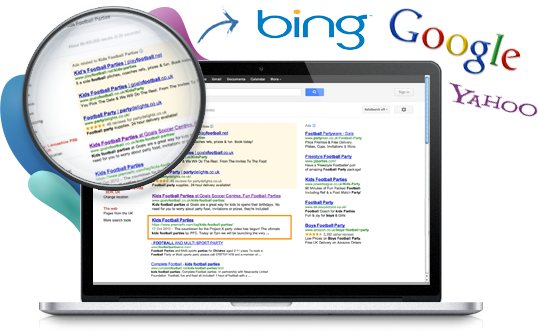 Getting your website designed and hosted to the world wide web will have cost you alot of time and more importantly money. For most, a website is a big investment, so you expect it to be seen by hundreds or thousands of people everyday.
Well unless your website was optimised for search engines and an effective results driven strategy put in place, your site might aswell be hosted in your shed.
Search Engine Optimisation is not a myth, we optimise your website so search engines can easily find it and read it's content so you appear on their search results for the correct keywords.
Our team of SEO strategists can help put together an effective SEO campaign for any sized website and get you those all important potential clients to your website!
Get Free SEO Plugin Installation
With every SEO & Web Development project with us.
See What We Offer
What is Search Engine Optimization?
Search Engine Optimization (SEO) is the process of altering a website so it's content can easily be read by popular search engines such as Google and Bing. SEO is an organic means of getting targeted traffic to your website, unlike paid PPC (Pay per click) which are managed through services such as Google AdWords and Microsoft adCentre. For many companies and businesses a budget and timescale are crucial, whilst PPC brings fast effective traffic to your website, in the long run it will cost alot more than an effective SEO campaign. An SEO campaign does take time to bring results, just like any investment, an instant return is unlikely. The time it takes to start getting results depends on various things such as,
The Keyword – Is it very competitive?
Age of your Domain
Age of your website
An Effective Campaign
When thinking about whether to choose SEO or PPC, it's not a case of picking one of the other, the decision is entirely yours and a lot of people choose to use both to maximize the amount of traffic to their website. Search engine optimization has never been more important, a good product and packaging is no longer enough when targeting the online market, it's the chosen keywords/phrases that determine the products success. Our keyword researches will use all the latest SEO tools to find the most effective keywords for your industry and your business.
What's involved in an SEO campaign?
With any campaign there are certain fundamentals which form the basis of every campaign. These include,
Keyword Research
Onsite Optimization (Internal Link Building, Meta Description and Meta Keywords, Content Writing, Page Speed)
Offsite Optimization  (External Link Building, Link Baiting, Maps, Social Media)
How We Perform Keyword Researches
This is the most important part of any SEO campaign. It is essential because these will be the search terms you will aiming to appear on popular search engines for. It is not just a case of picking obvious keywords which relate to your business, a keyword which you think may yield 1000′s of searches a day may actually only result in 100′s. Search engines are designed to give it's users the best possible search results. To do this, search engines send out millions of spiders every second to find new content that they believe is worthy of being on page 1 because it gives their users the exact information they were searching for. Your websites needs to be loaded with useful information for your chosen keywords, which are all interlinked through internal linking and backed up through external links. Every keyword should be well researched and can consist of both,
Broad Keywords/Phrases
Targeted Keywords/Phrases
A broad keyword or term may yield a higher search rate than other targeted keywords, but top search engine ranking for a targeted keyword phrase will generally give your site a higher conversion rate. Depending on what your site would like to achieve, both general and broad keyword phrases may be "good keywords" for a search engine optimization (SEO) campaign.
For example, as a business we offer Internet Marketing services which is a broad term as Internet Marketing consists of various services such as "SEO", "Social Media Marketing" and "Email Marketing" which in our case are Targeted Keywords. Once we have become experts in all of those topics, then the search engines will say that we have become an expert in the broader topic of "Online Marketing" and "Internet Marketing". This is what ultimately defines the theme for your website and establishes your site as an authority.
Onsite optimization is the process of making your website search engine friendly. By using the keywords/phrases found during the keyword research, these are implemented into,
Meta Description and Meta Keyword
Content Writing
Internal Link Building
Page Speed
Every search engine uses it's own algorithms and techniques to determine a websites relevancy to certain keywords and ultimately it's page rank. It's important to note there is no one set method of implementing search engine optimization due to the many different techniques search engines use. Whilst we are constantly looking out for any news they release through articles and video announcements they do not tell us everything.
Meta Description and Meta Keyword
Recently, Google announced that meta description and meta keyword were no longer being used in their algorithms, in fact they haven't been used for years. Despite this, this is not true for all search engines, and we believe it is still good practice to use them as they help remind us what keywords are being used for that particular page. Originally, the meta description was used by search engines to determine what the page was about with meta keywords being the keywords which were being used within that page. It's important the main keyword is used within a well written detailed meta description.
Other very important elements that help search engines identify what a section of text is about even before reading it, is the proper use of headers. Good use of the H1, H2 and H3 tags tells the search engines what the next bit of information is about. These should be treated as a hierarchy with H1 being the most important and H3 being the least important. Lot's of people use heading tags right down to H6, although search engines tend to only search for the first 3, they make your content easier to read.
Content Writing
Search engines demand well written content. As mentioned earlier, search engines are designed to give it's users the best possible search results, so if you provide quality well written content that is descriptive on your website you are more likely to appear on page 1. Content writing is fairly simple and should contain good grammar, spelling, languages and sufficient keyword density. It is important to note content writing does not mean writing for search engines. This may seem confusing but, if we wrote content for search engines, our content would read like it was written for a robot. Search engines may well be robots themselves, but they demand natural, descriptive and unique content that humans can read fluently. Our content writers will research your industry and ensure everything is 100% accurate, well written and unique (Search engines hate duplicated content and will punish your website).
Internal Link Building
A good internal link structure makes navigating around your website much easier for both it's users and search engines. Internal linking prevents users getting lost and creates a fluency throughout your website, with users and search engines being able to go from one page to another page very easily. By using the keywords within our content and linking them to other relevant content on your website it creates what we like to call "My nans knitting". We all know our nans knitting is very good, they take single strands of material and weave them into a blanket. Internal linking can be visioned in the same way, with every internal link we put in place, we add an extra strand of material to our blanket. By ensuring our material is good quality material in that our keywords are in our links, we create a linking structure that covers every part of our website. Much like a blanket covering our entire body, it is far more beneficial to have one that does than one that does not. The same goes for internal link building.
Page Speed
When developing a website, web developers are always thinking about page speed. No one likes a slow website, in fact if a website takes longer than 4+ seconds to load most users will leave your website. Google thinks the same way, if your website takes ages to load they are not going to feature your website on page 1 because it would be giving it's users websites which are frustrating. There are certain practices which help minimize the length of time it takes your pages to load and our web developers can help reduce your loading times.
When using offsite optimization techniques, the main objective is to increase your websites visibility. There are lots of techniques which can be used to give your website the exposure it deserves, these include,
External Linking
Link Baiting
Google Maps
Social Media
External Linking
External linking techniques involve getting external sources to link to your website. A few years ago when Google announced external linking as a major factor in determining a websites rank it caused a craze in people exchanging links which were unethical. Google intended external linking to act as a recommendation for your website, if someone linked to your website they were effectively recommending your services. Since then, Google has punished lots of websites which used what we call "Black Hat Techniques" in obtaining external links. External linking is still important, but it's the quality of the links which is vital. When looking for external links you should be getting them from websites that Google hold in high regard and from websites which are directly involved in your industry. By using your keywords in these external links we are telling search engines instantly what type of content is found when they click through that link.
It's very important you make sure the SEO business you are working with are using ethical and natural link building techniques otherwise your website will be penalized by Google and you will drop in Google rankings significantly. Our external link builders will research your industry and contact other website owners to exchange quality links which are beneficial for both parties.
Link Baiting
Link baiting is the most cost effective means of obtaining good quality links without having to contact other website owners. Depending on the industry you are in, there are several techniques which you can use to get other people to link to link back to your website. One way we implement our link baiting techniques is through our blog. Our blog contains lots of useful information and design elements which people want to read and find useful, eventually someone will find it so useful that they want to tell their friends and website users to read a particular article if they need help.
Google Maps
Google maps is something every business needs to have. It allows you to put in your business address and appear in search results for people finding services in a particular area. It allows us to also put a description about your business, which means we can place more of your keywords. Google places also allows people to review your business so others can see it.
Social Media
Social Media is a vast platform, and in recent years search engines have seen it's use in determining a pages rank. Social media is where people communicate online, and in most cases a place to share experiences and useful information. If you use link baiting and quality content writing to your advantage, chances are someone will share your webpage to their friends on popular social networking sites such as Facebook, Twitter and YouTube. If you have thousands of people talking about your website on these social networking sites then search engines will recognize the influence you have on your users and thus increasing your chances of making page 1. Learn more about social media on our social media marketing page.